If you are under 50 and you know who Rita Pavone is then you are probably either a)Italian, or b)a Morrissey fan.

The reason I make this assumption is that Rita Pavone scored two minor British chart hits in the mid 1960s (with 'Heart' and 'You Only You' reaching numbers 27 and 21 respectively); and, in 1984, when Morrissey appeared on Radio 1's 'My Top 10', he chose 'Heart' as one of his favourite records, claiming it to possess 'the most incredible vocal performance ever recorded'. You can judge for yourself below:


And here's the original Italian language version of 'You Only You':



Rita Pavone emerged in 1963, winning an Italian talent show called 'Festival degli Sconosciuti' (literally 'Festival Of The Unknowns') and was hugely popular in her home country, but became even more popular in Spain where her blend of Pop Ballads and Rock earned her a huge fan base.
In Europe, though strangely not Britain, she constantly appeared on TV, and even made a couple of appearances on the Ed Sullivan show in the States.

Rita also carved out an interesting film career in the 1960s.
She starred in a couple of movies as 'Rita La Zanzara', which roughly translates as 'Rita The Mosqueeta', in which she plays a feisty college student who develops a crush and then falls in love with her music teacher. Her films weren't massively popular at the time, to be honest, but over the years a cult following has developed for them.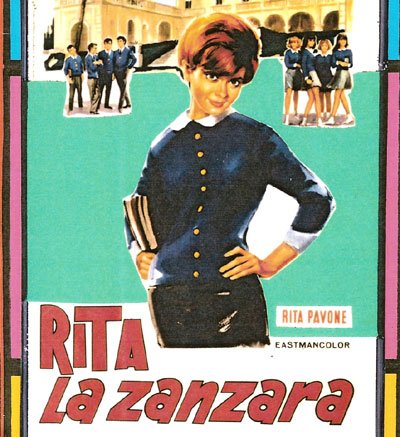 Perhaps her biggest Cult Movie was the one of hers which I own; her one and only venture in the murky world of the Spaghetti Western.
Last week I spoke of my passion for the Kaiju Eiga Japanese Monster movies, but even they pale next to my obsession with Spaghetti Westerns. I mean, you are talking to someone who has actually seen 'Lemonade Joe', the only Eastern European Spaghetti Western.

Spaghetti Westerns tend to fall into 4 categories; The Stylish: anything by Sergio Leone or Sergio Corbucci; The Political: many Italian Leftist film makers used the format of the Western to get anti-Fascist messages across, and check out 'Il Prezzo del Potere(1969)' which reconstructs the Kennedy assassination long before Oliver Stone got his hands on it; The Awful: there are so many cheap tawdry Spaghetti Westerns out there, that you really need a guide map to avoid the dross, but beware any movie that stars Italian Chuckle Brother lookalikes Franco and Ciccio....watching their films is like eating your own eyes; and The Weird: some Spaghetti Westerns are just downright bizarre. Take 'Death Walks In Laredo' in which a gunman joins forces with; his long lost brothers, a French hypnotist, and a Japanese Martial Arts expert, to take on a villain who thinks he's Julius Caesar.


Or 'Three Supermen In The West', a completely nonsensical affair in which some 'Three Stooges' style Superheroes end up back in time in the Old West. Not the Old West of John Ford and Howard Hawks, of course, but the Old West of the Spaghetti Western.
I defy you to watch this excruciating trailer all the way through:


And then there's 'Little Rita Of The West', starring the heroine of tonight's Blog.

The Spaghetti Western fan's Bible, 'The Good, The Bad and The Violent' by Thomas Weisser really gives this movie a hard time, even voting it one of the Top 10 Worst Spaghetti Westerns Of All Time (No.9 to be exact)...but that's all a little too harsh. Compared to the Franco and Ciccio efforts, or any movie by Demofilo Fidani (excepting the fabulously titled 'One Damned Day At Dawn, Django Meets Sartana' - see Hollywood, that's how you title a picture!) , or indeed any of the cheap, shoddy Sartana cash-ins; this is quite a solid little movie.


And it's good for a laugh.

Weisser and his cohorts even admit that the sequences in the movie featuring Django are quite droll. As are the scenes with Johnny Ringo and Black Star (called Black 'Stand' in the subtitles of the version I watched). Indeed, the scenes which parody the Spaghetti Western cliches are extremely stylish and very well done.
The song and dance numbers, often cut from American prints, are quite bizarre and I feel that this movie would be better served on a double-bill with 'Head', the Monkees movie.


A word of warning though, if you see this movie on the Japanese DVD then you'd be as well turning the English Subtitles OFF if you want to follow the plot as they make no sense whatsoever...especially in the lyrics to the songs. Or keep them on and get an extra few laughs for your money.

All in all this is quite a fun little movie and it's certainly an alternative to, say, the vile misogyny of something like 'Cut-Throats Nine'.

After a quiet 70s in which Rita married and started a family, she returned to movies in the 1980s, appearing in a couple of comedy films, none of which played much outside Italy.
In 1992 she appeared in the United States at a concert which featured Frank Sinatra and the Bloshoi Ballet, and then took to acting in the theatre, appearing in several Shakespeare productions.
She now lives in Switzerland with her husband and family, and as recently as 2006 was actively partaking in Italian politics.

She may be fairly unknown outside Central Europe, but thanks to Morrissey she's one of my favourite Euro-pop stars, and the star of one of my favourite Spaghetti Westerns.

And better than the New York Dolls any day!



Ciao,
~Gordon~

And if you are interested you can download Rita's eponymous debut album here